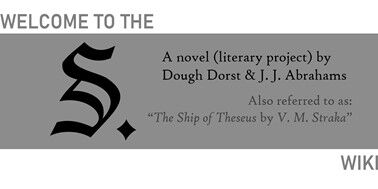 Welcome to the S. Wiki, an encyclopedic resource and community gathering spot for all things related to Doug Dorst's and J.J. Abrams's novel (or sometimes refered to as a literary project). An alternate name that people may use is The Ship of Theseus by V. M. Straka.
The S. Wiki reveals plot details about the book. Read at your own risk! Remember: the S. novel is best read wihout spoilers.
Browse
Authors
"What began at the water ends in the water. And what ends there will begin again."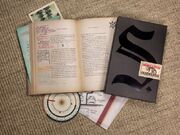 S. is a 2013 literary project conceived by J.J. Abrams and written by Doug Dorst.
S. isn't a book or a novel in the traditional sense, it is a book inside a book. It is composed by the fictitious novel Ship of Theseus, (written by V. M. Straka, presented as a library book from 1949) filled with handwritten notes in the pages' margins and several meta-textual elements (such as postcards, notes, napkins, etc.).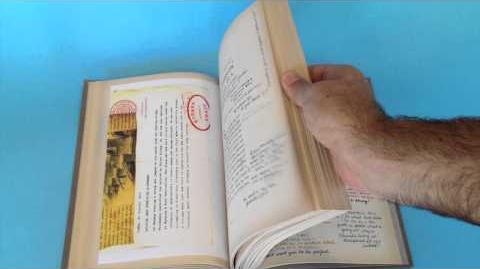 What is the Ship of Theseus?

[

edit

|

edit source

]
The Ship of Theseus is the "real life" novel written by V. M. Straka in which the handwritten notes are as well as the meta elements.
The book is a dark political novel with an often surreal narrative about an amnesiac castaway who goes by the initial S. as he searches for clues to find his identity. This is meant to be the 19th and final novel of the fictional author and a lot of the mystery of the book -as well as the literary project S. (not to be confused with the novel's main character that goes by the same name)- is to discover the authors identity.
This literary experience is meant to be a mystery, a new, innovative and different reading experience. The project contains a lot of real life codes to be decipher by the reader and these are best experimented first-hand, not spoiled on an internet page. However, the story is vague and even though the project was released in 2013, many of its clues and mysteries are yet to be solved or a conclusive answer to be agreed upon. This is the reason why a very dedicated and hardworking community has developed to solving/understanding the project's entire lore.
This wiki is only meant to be a quick encyclopaedic resource. If you want a more in depth analysis, to participate in the theories or to take an active part in the solving of these mysteries, then please consult the following websites:
The Official Companion website for the Literary Project:
For In-Depth Analysis, Theories and Advice:
Whoisstraka: by far the most conclusive, in-depth analysis you can find about S.
For Finding the Hidden Real-Life Codes:
SFiles22: the most in depth blogs dedicated to the cyphers and other information.
Community content is available under
CC-BY-SA
unless otherwise noted.